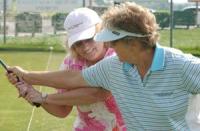 Penn National's staff of highly qualified and experienced PGA professionals can provide you with instruction that can help take your golf experience to the next level.
Private lessons from Head Golf Professional, Dave Beegle, or PGA Professional, Darin Peart, are available for $50 for 45 minutes or $135 for a series of three lessons. Call 717.352.3000 x6 for more information.
The Penn National Golf Center offers a variety of golf schools, clinics, junior camps, and instruction. LPGA Master Professional Lorraine Klippel, of Bumble Bee Hollow Golf Center, is available for private instruction. Bumble Bee Hollow Golf Academy has also added Kathy Murphy to it's Teaching Staff. Kathy is from Phoenix, Arizona and will be the main instructor for private lessons and clinics at the Penn National Golf Center while Lorraine Klippel will focus most of her attention on their Golf Schools.
Kathy was a volunteer coach for the 1997 and 1998 NCAA Women's National Championship Golf Teams at Ari zona State University . Her other credentials include Golf Digest America's top 50 women teachers, 2001 LPGA National Teacher of the Year Award and the 1988 LPGA National Professional of the Year. Kathy is a LPGA Master Professional with over 30 years of teaching knowledge and experience.