Founders & Iron Forge, the Yin & Yang of Daily-Fee Golf
Two of the most Different, Challenging & Highly-Rated Courses in the Mid-Atlantic.
---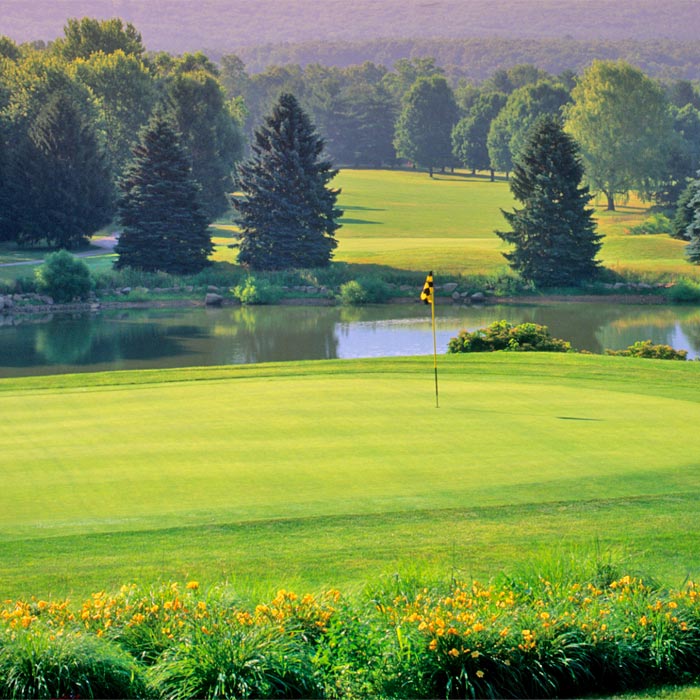 Founders Course
During the 1800s, iron ore was mined from the land that is now Penn National. When that ore ran out, the land was farmed until the 1960s, when agriculture gave way to golf course development. In 1966, prolific course designer Edmund Ault was hired to lay out the Founders course as a classic, Northeastern-style masterpiece with large contoured greens and tree-lined fairways.
The Founders Course opened in 1968 and was updated in 2006 with an extensive bunker and tee renovation. With trees lining most of the holes, Founders can be demanding off the tee but everything is there in front of you--nothing is blind or tricked-up--you know what you have to do, but can you pull it off? A 7-acre lake comes into play and makes things interesting on several holes on the front and back sides. As with all well-laid-out traditional courses, Ault turns up the heat at the end, saving the best and the toughest for the 5-hole stretch starting at the par-5 14th!
Golf Digest rates the Founders Course 4-Stars, Zagat rates it 27 points, as compared to Bethpage Black as Zagat's highest-rated Northeast course at 30 pts.
---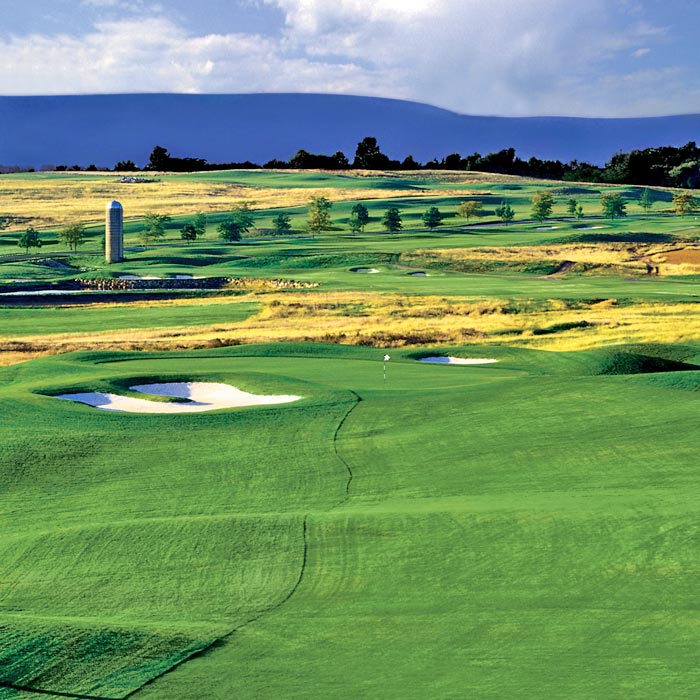 Iron Forge Course
Iron Forge was designed by architect Bill Love and opened for play in 1997, almost 30 years after its sister course. The Iron Forge is visually stunning with 30-mile views of the surrounding farmland and mountains. It starts and plays toward the Michaux State Forest, in the foothills of South Mountain, and makes a single loop home, passing through a variety of terrain that offers exciting golf and breathtaking views.
In contrast to the Founders Course, Iron Forge is nearly treeless. It will let you grip it and rip it from the tee but the greens and surrounds place a premium on shots to the green and putting. There is also the mysterious "Mountain Effect" that takes control from the 4th through 11th holes--your eyes will tell you one thing on the greens but just remember that speed and break are controlled by the Mountain!
During the construction of the Iron Forge course, a small lime kiln was uncovered. Dating back to the early 1800s, this kiln is located behind the 9th green. It has been preserved, and guests are welcome to visit there and learn more about early iron making, and its role in the area's history.
Golf Digest rates the Iron Forge Course 4-Stars, Zagat rates it 25 points.