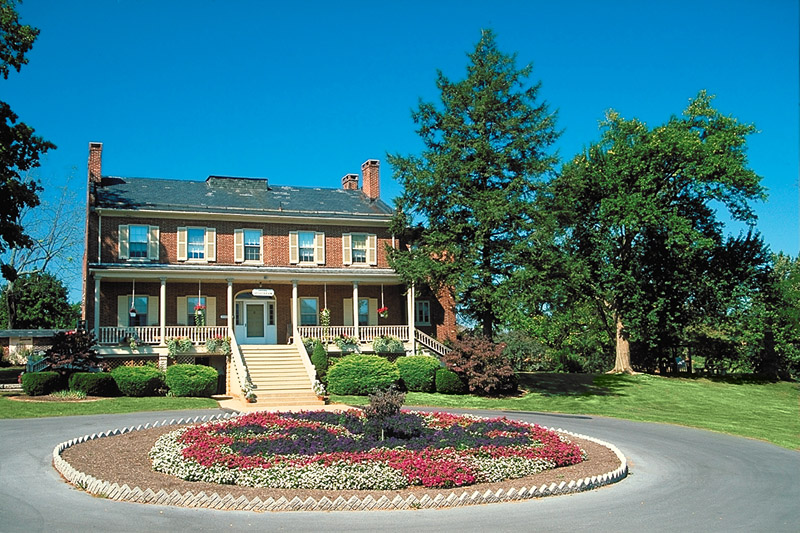 The centerpiece of the Penn National Inn is a majestic, two-story brick Georgian manor house that overlooks the white rocks and serves as the front door to the facility. The house is rich in history and has been renovated to preserve its character and ensure its place in history. The property, known as the Penn National Inn and the White Rock Manor, begins its documented history with Adam Ross, an Irish immigrant. He purchased two tracts of land from William and John Penn in 1789 and 1812 and called it 'Rosscommon'. Adam Ross married Jane Chambers, the daughter of Col. Benjamin Chambers- the founder of Chambersburg. The exact date of the construction is not documented but construction was prior to 1820 and possibly as early as 1812. The date carved in the stone of the south gable of the barn is either 1833 or 1838. There is an undocumented story of Col. Jeb Stuart's visit to White Rock Manor, which has not been recorded in history books, but the family has kept it alive from one generation to the next.
"Mrs. George, Mrs. Benchoff, and Mrs. Kegerreis are the grandchildren of the younger generation that lived in the house during the Civil War. According to Mrs. Benchoff, the plantation had an enormous herd of horses; the best known of whom was the Irish stallion, Lance. General Robert E. Lee was very pleased with his horse, Traveller, sired by Lance. Stuart and 1,800 of his finest horsemen headed North on their raid, and he included in his instructions that they go to White Rock and each of the 1,800 men lead away one horse. When the troops set out for White Rock, the news of their intentions went before them. The family hid their silver and other valuables under a large rock behind the barn and in a bucket in the well. Then they went out to chase the horses up into the hills where they would be safe. From the second floor, Miss Mary Jane George watched them advance over the rise. Stuart was undoubtedly surprised to meet with no resistance from the men folk. However, he swept off his white plumed hat to Miss Mary. Col. Stuart headed for the cellar door , but Miss Mary stepped in front of him and said, "Really sir, there is nothing down there but horse medicine. "
Picking her up by her waist, the colonel set her on a high chest in the hall, leaving her there kicking to get down he headed towards the cellar door. A short time later Col. Stuart came up again, licking his lips, and said, "Miss Mary, this is the best damned horse medicine I ever tasted." Kittochtinny Society of Chambersburg, PA. Research Department.